Vegetarian Restaurant in Heaven
@ The Nest Boutqiue Resort
Welcome to The Nest Vegetarian Restaurant
The Non Violence - Ahimsa
Our team believes in causing no unnecessary harm to any living beings. As such, we built the only gourmet vegetarian restaurant in Zanzibar. 
It is placed on the second floor over our stunning Paje Lagoon with unsurpassed views of the horizon.  
The restaurant offers artistic finishes as an extension of  the visual concept of The Nest – Bohemians of Nature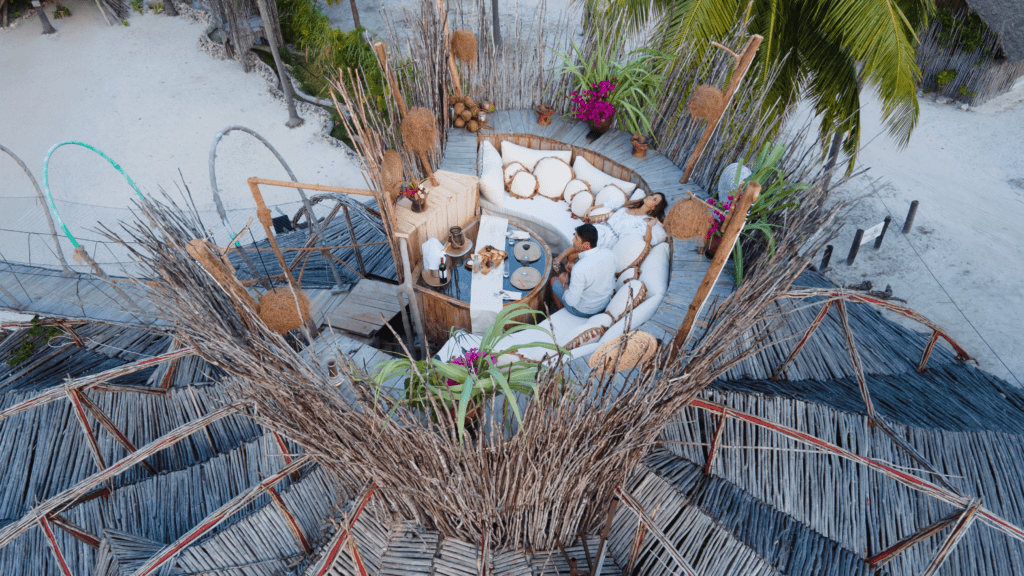 The Nest 7 Course gourmet dinner
Up in our Nests, you can experience our 7-course boutique dining experience under the stars.
A billion-star view with a fine wine in a romantic setting or with a group of friends. This is how each day shall be sent away. 
Book at $100 per person. 
The Nest 7 Course gourmet dinner
You can reserve a table for the same day up to noon. All meals are custom made on the same day with fresh ingredients. Dinner is recommended to start at 18:30 with drinks in order to catch the last glimpses of the sun. Just sit back and enjoy the stars and meals reveal themselves one by one. 
Ejoy the stunning view of Paje lagoon with over 200 different menu items. From our rich breakfast menu to our swahili section, there is something for everyone.
Just walk down the Paje beach and join us – see the map below